Last Update
15 August, 2018
The Radio Club was Founded in 1975 by Dave Penny, Nick Shepard, Peter West, and Roy White
Club Callsigns
G3XG G6BRH GX3XG
G6BRH DMR ID 2342500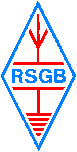 Club is affiliated to the Radio Society of Great Britain
See "Meetings and Dates" page for latest club events, etc.
Anyone wishing to join the club, please contact our Club Secretary on
Clubs new meeting day and venue
The committee has decided, due to circumstance beyond our control to find a new meeting place to hold our club meetings.
As from the start of April this year we will be meeting at:
St Peters Church Hall, St Peters Road, off The Causeway Braintree.
This is behind the Public Gardens in Braintree
(For Sat Nat users use the post code CM7 9AR)
This also means we will have to change the day of the meeting, we will now meet on the SECOND and FOURTH TUESDAY of each month
The new venue will give us better comfort, including inside toilets, a clean kitchen, a warmer room and enough car parking space for all.
**** LOCAL REPEATERS****
GB3BZ 70cm repeater based at Beazley End near Braintree
Input 438.450 Output430.850
Tone 110.9Hz
GB7HA 70cm DMR repeater based in Halstead.
Tx 439.575 Rx 430.575
Colour Code 3
DF Hunt 20th June 2016
DF Hunt was won by Howard G6LXK and Mike G8DJO,
runners up were Colin M6NCU and Joe M6YEL
The fox was Melvin G0EMK and was found Hall Road Panfield.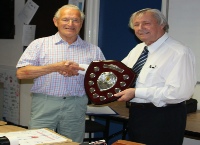 construction trophy
Derek G3MMA receiving construction trophy for innovative 20/40m scratch built loop antenna.
Effective tested range 3000 miles
Icom Evening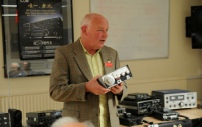 To round off its 40th Anniversary Year, on April 18th, the Braintree Club held an Icom evening. This was supported by ICOM UK, who also have just celebrated their 40th anniversary. Club members were invited to bring along their Icom radio equipment from the last 40 years. The members responded magnificently, with over 50 radios on display, all but one in working condition.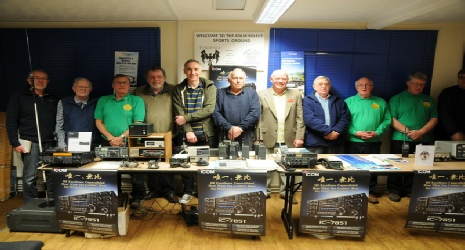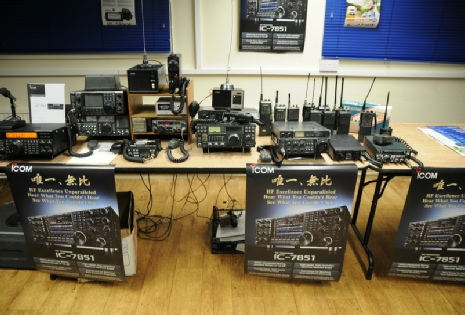 Models on display ranged from IC215 portable to IC400 hf base station and IC2e to IC E90 in the hand held range.. With a host of mobile and base VHF and UHF rigs including, IC 22, IC290, IC211, IC251, IC271 and IC471, the display was a joy to behold. The members spoke briefly about the history of their radios and there were even a couple of of original "new" original purchase receipts. ICOM UK sponsored the raffle with a selection of prizes,our grateful thanks to them for thier help and support. With a really good turnout of members and guests, it was a great way to draw this anniversary year to a close.
Club Net
Don't forget club net is held on every 2nd and 4th Monday of each month (excluding Bank Holidays).
Over the last few nets we have been having an increase in the amount of members taken part.
Club Magazine
The committee decided that it would benefit members if old copies of the club magazine were available from the web site. Each month a PDF file of the previous months magazine will be available for download. To read the file directly it will be necessary for the viewer to have Adode Reader or a similar PDF reader installed on their PC
Back issues of the BARSCOM club magazine can be found here.
Club Members Only
Please submit any news items which you want published to the Web Manager Email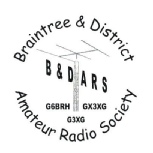 Natter Night
TX Factor 18
Latest club BARSCOM
Magazine

Club Net
Tuesday 21st August @ 20.00
Call sign G3XG and G6BRH (S15) 145.375 MHz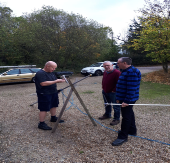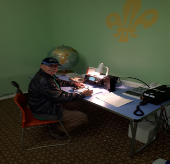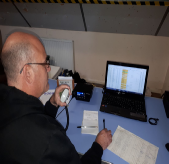 Local Repeaters
GB3BZ 70cm
Output: 430.850
Input: 438.450
Offset: +7.6MHz
Tone: 110.9
GB7HA DMR
Output: 439.575
Input 430.575
Colour Code 3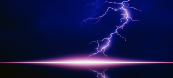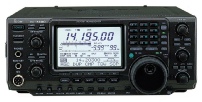 Passed Magazines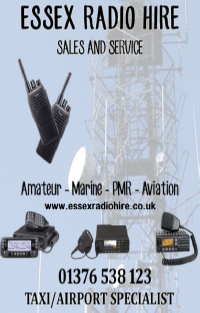 This year the Founders Shield was awarded to Edwin G0LPO for his contribution to the club in 2017/2018 organising club nights, TX Factor and more.

Mills on the air 2018
11th 13th May
This year again BADARS was at
Alderford Mill Sible Hedingham for mills on the air.
We had three stations running over the weekend, HF and for the first time
we used DMR and Data Mode FT8.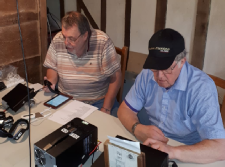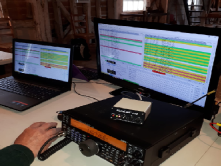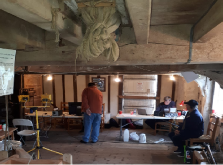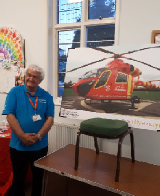 A big thank you to Roger Smith from the
Essex & Herts Air Ambulance.
Roger gave a talk to the club on the two air ambulances currently used around Essex and Hertfordshire.
These cost a great deal of money to keep running every day of the week and with a daily cost of about £17'500 every penny is needed to keep this vital service running.
Why not support the Essex & Herts Air Ambulance and do there Lottery or simply give a gift.
Local Repeater changes
GB3CL Clacton and GB3CE Colchester have changed CTCSS.
GB3CL: Output 433.225 - Input 434.825 (+1.6) CTCSS 67.0 Hz
GB3CE: Output 433.350 - Input 434.950 (+1.6) CTCSS 67.0 HZ
JOTA Weekend 2017
21st to 22nd October with the Halstead and Colne Valley Scouts.
We operated from Earls Colne Scout Hut, Station Road in Earls Colne
using the call sign GB1HCV.
This was the first time we had used DMR via GB7HA repeater for JOTA.
DMR was operated by Neil M0NAS and Colin M6NCU during the weekend and over 40 contacts made in different coutries via this mode including England, Scotland, Ireland, Germany, Canada and Ben N6ELF in Pearland 7850km away in the USA.
HF was operated by Melvin G0EMK over the weekend making contacts in Russia and a special call sign in Budapest Hungary HG500T. Several contacts made by Geoff G1GNQ via 2m on the Saturday even though being stationed in a valley made this difficult.
While all the operating was going on Edwin G0LPO, Neville G8CDG and John M5AJB completed some electrical constriction kits with the scouts and cubs.
The Cub and Scouts who attended this years JOTA all enjoyed themselves even camping in the cold and windy conditions.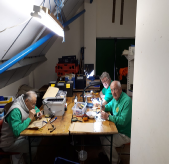 Railways on the Air 2017.
23rd - 24th September
Was at the Colne Valley Railway Castle Hedingham.
Over the weekend we operated from a former car transporter carriage next to the main railway. We used the call sign GB0CVR.
As well as using HF and 2m/70cm this year was the first time we used DMR via the local repeater GB7HA and make several contact via this mode.
Mills on the Air Weekend 12th - 14th May 2017
BADARS will be using the call sign GB2AWM
Mills on the Air was held at Alderford Mill, Alderford Street Sible Hedingham.
The club managed to get 55 contacts during the weekend
including making contact with 18 mills
www.alderfordmill.org.uk/Alderford_Mill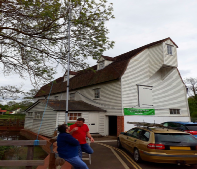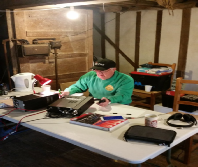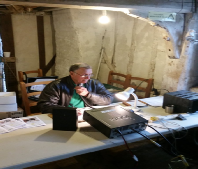 BADARS will be operating from Ridgewell Air Museum on the 9th September from 11.00 to 17.00 with the call sign GB2RID.
The Ridgewell Air Field Museum is a growing private collection celebrating the life and times of the British and American servicemen and women that were stationed here. This year Ridgewell Air Museum is celebrating 75th anniversary of the 90th (B) RAF arriving.
The 9th September is an open day to the public and will be well worth a visit and not just to see the club operate from this great location.
For more detail http://www.rafcamuseum.co.uk/index.html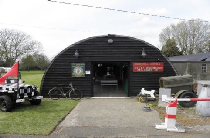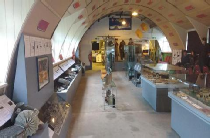 HF Field Contest Contest
BADARS will be taken part in a HF field contest on Satuarday 1st September.
We will be operating from a field in Stisted from about 13.00 to early evening.
(As a club we will not be taken part for the whole 24 hours)
Club Summer camp
Club summer camp 26th to 28th August
All members welcome to take part