WELCOME TO THE BRAINTREE AND DISTRICT AMATEUR RADIO SOCIETY
The club is grateful for the support it has received from Martin Lynch & Sons whose website is www.HamRadio.co.uk
Club members and visitors normally meet on the 2nd and 4th Tuesday of the month at 8pm in St Peter's Church Hall, Braintree. Further information about our club, how to join and on getting to our meetings is on our About Us page and all are welcome to attend.
We also have a club net on 2m FM on V30/S15 (145.375MHz) on the 1st and 3rd Tuesdays at 8pm and, if there is a 5th Tuesday in the month, via the local GB3BZ 70cm analogue repeater on RU68 (input 438.450MHz output 430.850MHz CTCSS 110.9). Again, all are welcome to join in.
We are on Facebook (Page Badars @CallMoXG Local Business) and also X (formally known as Twitter) (badars @badars_M0XG)
Information on upcoming events can be found on our Programme page and on Facebook. We also have pictures of some of our meetings and other events on our Gallery page.
NEWS HEADLINES!!!
The last meeting of 2023 at the Church Hall on Tuesday the 12th December is not to be missed! Yes, its the Christmas Social and Quiz Night with plenty of nibbles, great conversations and evil quizzes! The first prize in the raffle has once again been kindly donated by Martin Lynch & Sons and this year is a UHF handheld transceiver, which was presented to the club by none other than 'The Gov'nor' himself. The picture below shows Geoff, G1GNQ and Dave, G0DEC receiving the prize at the recent ML&S Open Day.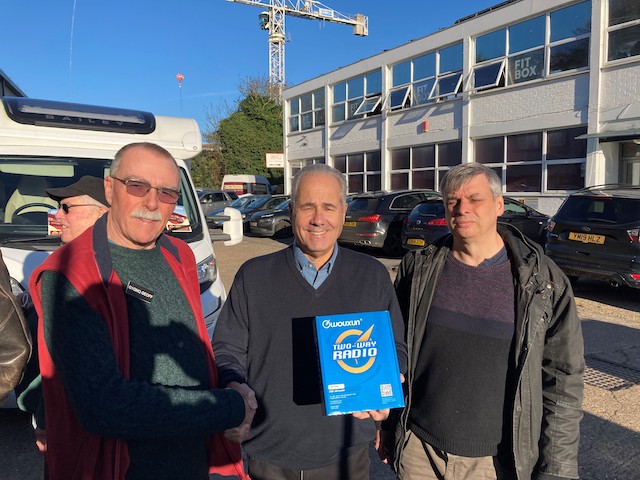 We are now additionally making our club meetings available on Zoom for those who cannot make it to the Church Hall. Please see the November Barscom for more details.
Unfortunately we didn't have sufficient support to run a club entry in the RSGB VHF National Field Day on 1st and 2nd July. We have recently seen a reduced interest in and support for field days from BADARS club members, so we have removed these from our calendar and will concentrate on other Special Event days (see programme page for details).
The club held its AGM on Tuesday 23rd May 2023 and the outgoing committee was pleased to report that we are finally leaving Covid restrictions behind us and have enjoyed meetings, operating events (e.g. International Marconi Day at Stisted) and special event stations (e.g. Mills On The Air at Alderford Mill).
Less happily we have not been immune from rising costs and the meeting hall costs were not fully covered, therefore we reluctantly have increased our door fee to £2 when we meet in St Peters Church Hall.
John, M5AJB, Dave, G0DEC, Geoff, G1GNQ and Colin, M6NCU remain President, Chairman, Secretary and Treasurer respectively but with Edwin, G0LPO stepping down, Howard, G6LXK joins Tim, G0JMT as Ordinary Members. A new Co-Opted Member was created on the committee for the club Webmaster who was confirmed as Richard, G4FJC. Mike, G8DJO kindly volunteered to carry on as Editor of Barscom.
The Harold King award for 2023 was presented to Gary, 2E0PTV for his contribution to the magazine and stepping in at short notice to do a presentation at a club meeting when the existing presenter couldn't make it. Mike, G8DJO was awarded the Founders Trophy for his unstinting work on the Barscom magazine which has received wide acclaim and recognition and is the envy of many other clubs. Well done to both Mike and Gary!
OTHER NEWS
Apologies this section hasn't been updated recently - I have been focussing on the headlines and programme but will hopefully find the time to refresh this and other sections soon!
Our annual Summer Camp over the weekend of 6th and 7th August 2022 was hosted by our President John, M5AJB and his wife Rosemary as usual and we had great weather and a great time playing with aerials and radios and socialising. There are some pictures on our Gallery page and some more pictures and videos on our Facebook site.
Our annual BBQ and Natter Night was held at Stisted on Tuesday 12th July 2022 and was a great success. A good time was had by all, despite the rain shower and have a look at our Gallery page for some pictures.
The club AGM was held on the 24th May 2022 and having reduced our subscription rates through Covid, we have reverted to our normal arrangements and unfortunately had to make a small increase for 2022 - 2023. Details are on our Membership page together with a new membership form to be completed by all members.
Following our AGM we are pleased to confirm that the existing committee will serve for another year, details can be found on our Committee page.
On 18th April the club used its special event callsign, M0XG to commemorate World Amateur Radio Day from Stisted in Essex. Many members visited the site during the day and enjoyed the sunshine, BBQ and of course radio. A selection of photos is on our Gallery page.
In October last year the club supported the 1st Castle Headingham Scouts with the return of their Jamboree On The Air at their headquarters. A great time was had by all and more information on the event can be found on our Activity Reports page.
We ran a special event station GB5RD which commemorated Remembrance Day and was operated from members own stations and the Stisted contest site. Updates were posted on Twitter and we have a few pictures on our Gallery page.
SO WHAT IS AMATEUR RADIO ???
The easiest way to answer that question is to invite you to watch a video made by the Radio Society of Great Britain, which can be found here. If you want to know more, or prefer to read rather than watch, the Radio Society of Great Britain also have a 'Getting Started' section on their website which can be found here.