Welcome to Braintree & District Amateur Radio Society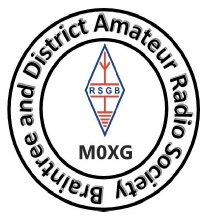 Braintree and District ARS
The Braintree and District ARS was formed in 1975 and has been serving the interests of over 40 members from North Essex and West Suffolk.
As our club meetings and activities are now cancelled until better times
we have introduced meetings on the air (MOTA) on the 2nd and 4th
Tuesdays to replace the normal club meetings. These will commence at
20.00 hours on 145.375 Mhz.
In addition to this we are holding an informal welfare net on Monday, Wednesday and Saturday commencing at 10.00 hours. This morning call is really a quick check that all is well.
All club activities are currently suspended due to the pandemic. As soon
as regulations allow, we will publish details of forthcoming events.
We have tested some presentations using Zoom and will be adding these
to our 2021 programme as soon as we can.
Details of the temporary programme & activities is shown below:
NOTE – THIS IS A TEMPORARY WEB SITE WHILE THE MAIN SITE IS BEING REDESIGNED AND WILL BE RE-
LAUNCHED IN THE NEAR FUTURE – there will be regular updates throughout June with lots of new content, that will be viewable on everything from mobiles to large screens with auto-sizing etc.
For your information their follows some events etc from pre-covid days:
there will be regular updates throughout June
Some of our previous activities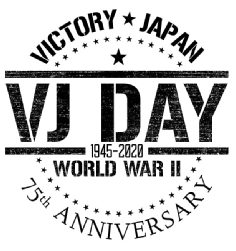 13th to 17th August
Members of the club may be operating from their home QTH's
BRAINTREE AND DISTRICT AMATEUR RADIO SOCIETY CELEBRATES VE DAY GB5VED
The weekend of 7th to 10th May saw Braintree & District Amateur Radio Society running a special event station to commemorate the 75th anniversary of VE Day.
The original intention was to hold an event at the Stisted contest site and to have some displays of military wartime communications equipment as well as operating the club station.
The advent of Covid 19 and the restrictions on gatherings etc. meant we had to cancel the event, however after discussion with Ofcom it was confirmed that they had relaxed the regulations for operating special events and we could have club members operate from their individual stations.
This idea was very well supported and we had 16 separate stations operating to a schedule over the weekend that allowed coverage of all the HF and VHF/UHF bands. The first day of operating was Thursday 7th with a reasonable amount of activity across the bands.
In total 666 contacts were made using CW, SSB, FM and DMR.
SSB contacts were made into Brazil, Puerto Rico, South Africa, Canada, North America and many European countries. Many of our QSL's are coming in via E-QSL and we also have cards ready to be sent out to those requesting a conventional response.
Thanks to all that took part and made the event a success
2019 CLUB CHRISTMAS PARTY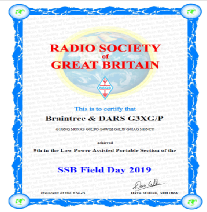 BADARS took part in this years SSB Field Day.
This was the first time the club had entered this contest and we came 9th in the Low Power Assisted Portable Section.
We operated from a tent in Stisted using a generator for power.
A few of the members stayed over night to keep the station working the 24 hours. Well done to all who took part in the contest.
JOTA 2019 18th to 20th October.

This years JOTA was with 1st Coggeshall Scouts and Coggeshall Guides.
We used the call sign GB5CSG and this was held in the scout building at Honeywood School
We set up late on Friday afternoon and had a few scouts from Coggeshall stay over night..
The main event took place on the Saturday and Sunday and we had other scout groups join us over the two days including Earls Colne, Gosfield and Castle Hedingham.
The set up will consist of 2m vhf, 2 HF stations and DMR.
RAILWAYS ON THE AIR 2019 (ROTA)
BADARS took part in ROTA at Colne Valley Railway on September 20th/21st.
BADARS used the call sign GB0CVR.
we will be operating HF, 2m/70cm & DMR via GB3BZ
Over the two days on the air there were 101 contacts made with 11 VHF, 23 DMR & 67 HF of these 12 were other Railways stations.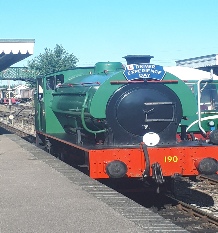 This was held the weekend of 10th and 11th August.
Despite the weather this was well attended over the weekend by club members.
G0DEC stayed for three night with M0NAS and M6NCU staying only the Saturday night and managed to operate until 03.30
The club large tent was damaged with the winds during the Saturday and will need replacing for the next summer camp.
VHF National Field Day 2019
BADARS set up a station for VHF National Field Day 2019 in Stisted near Braintree.
144 MHz station we used an Icom IC749 into a 12 Ele ZL Special.
432 MHz used a Yaesu FT897 into a 24 element beam.
The club didn't operate for the full 24 hours. We used this opportunity to bush up on our skills for future contests which the club intends to take part in. Also to check our set up and that all our equipment is fully working?? and what equipment we might require for any future contests that the club may take part in.
144 MHz managed 73 QSOs and 432 MHz made 9 QSOs
This event was well tended by club member over the weekend with Tony G0IAG camping at the station over the weekend.
A big thank you to Geoff G1GNQ for setting up the station and of course for the catering including the very large cooked breakfast on the Sunday morning.